Keywords
Water Soluble fertilizer
High quality of Water Soluble fertilizer
Water Soluble fertilizer
Quick Details
ProName: High Purity of Water Soluble fertilize...
Molecular Formula: N+P2O5+K2O
Appearance: Light green powder
Application: Used in the whole growth cycle of the ...
DeliveryTime: In one weeks after receive the payment
PackAge: 25 kg bags
Port: Any Port,China
ProductionCapacity: 100 Metric Ton/Day
Purity: 99%
Storage: Shielded from light,dry and placement ...
LimitNum: 10 Metric Ton
Grade: Agriculture Grade
Superiority
founded in 2008, east chemsources limited is a professional manufacturer and supplier in food and chemical field in china. through more than ten years development, our company has developed from single product at first to provide solution to final products now, which is committed to providing solutions for success and growth with long-term relationships.
at present, our products have been exported to more than 60 countries all over the world. our service is accomplished by providing a good quality solution that matches the specifications of our clients at competitive price. our products would derive from trusted sources and arrive to our clients in well arranged manner, be creating the greatest benefits for our customers.
whether your project is large or small, whether it needs one, several or all of our products, you will find our same consistent level of quality requirement. we are looking forward to your sincere cooperation and participation.
Details
High Purity of Water Soluble fertilizer
General Information:
Technical Data sheet:
All percentages are by weight unless otherwise specified.
(10 ppm = 0.001%)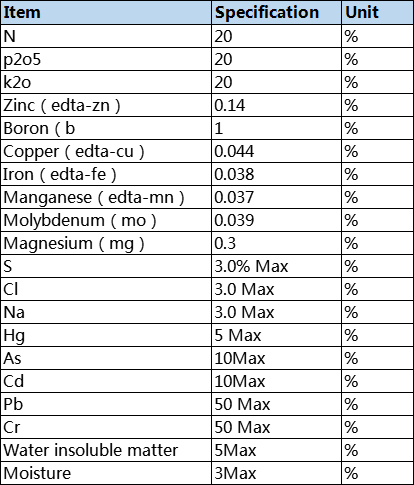 Product Function:
This product which can be used in the whole growth cycle of the crop. This product can supply nutrients needed by the crops quickly, promote crop growth, make its stem stout, developed the root system, enhance crop resistance, promote flower and fruit, increase crop yields and improve crop quality have a significant effect.
Advantage:
1. All water soluble and fast dissolved, fully meet the demanding solubility of fertilizer, such as drip irrigation and sprinkler irrigation.
2. This product contains all the nutrients of a large number of elements, and the nutrient distribution ratio is balanced. At the same time, a large amount of nutrient elements can be added to the growth of the crops.
3. Three types of nitrogen (ammonium, nitrate and amide) are rich in nitrogen, which are easily absorbed, fast and effective.
4. The product contains trace elements and exists in the form of chelate state, and it can supplement trace elements effectively for the crop at the same time.
5. This product is made of high quality raw materials. It does not use raw materials containing chloride and sodium ions, and it is suitable for all kinds of chlorine ,fruit and vegetable crops. It can effectively guarantee crop quality and do not need to worry about toxic effects..
6. Ph value is neutral partial acid, strong stability and can be mixed with most materials.
7. The heavy metal content of this product is very low, fully meet the quality requirements of organic food and fertilizer.
Recommended crops: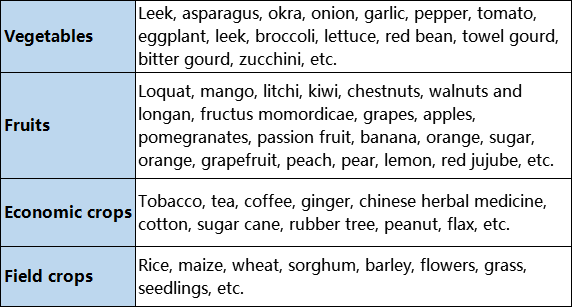 Usage: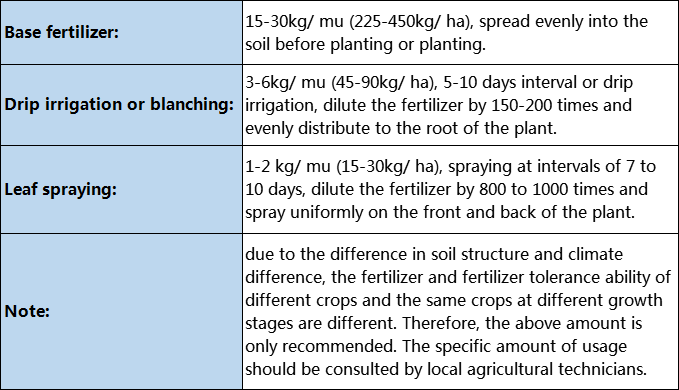 Matters needing attention:
1. This product is non-food and is not edible. Please seek medical advice immediately.
2. Keep it in a cool, dry and inaccessible place.
3. Avoid spraying the product in direct sunlight or high temperature.
4. Avoid the use of rain on rainy days, usually after 10 a.m. Or after 4 p.m.
5. The product is easy to absorb moisture, and the caking after the moisture absorption does not affect the product use effect.